Welcome to the PMF website.  We are a UK Registered Charity (No. 1060423) which aims to improve health in Plymouth and the South West Peninsula of England.  We do this by supporting medical research and health-related education in conjunction with University Hospitals Plymouth NHS Trust and Plymouth University, mainly the Peninsula Medical School.  During the last year, we have raised money for several projects, including Brain Tumour research and Parkinson's Disease research.  There is a lot more we wish to do, but we are dependent on the generosity of local supporters to help us raise the funds.  Anything you can do will help – ultimately patients treated across the South West will benefit.  It can be as simple as making a regular donation, fundraising, or including the PMF in your will – it might save your life or a someone close to you.
If you would like to know more about the Foundation, please explore these pages and contact us; some of the photographs are pre-COVID but they provide a flavour of our mission.  Many thanks for your interest,
Professor Adrian Copplestone (Chair of Trustees)
Plymouth, at the centre of the Southwest Peninsula, is fortunate to have a University with its own Medical School.  The Faculty of Health trains practically the full range of health workers.  Derriford Hospital, part of University Hospitals Plymouth NHS Trust, has a comprehensive service with the full range of medical and surgical specialties.  The close collaboration of the City, University and Hospitals provides unique opportunities to improve healthcare, undertake excellent research, and train health professionals to look after the local population and across the Peninsula.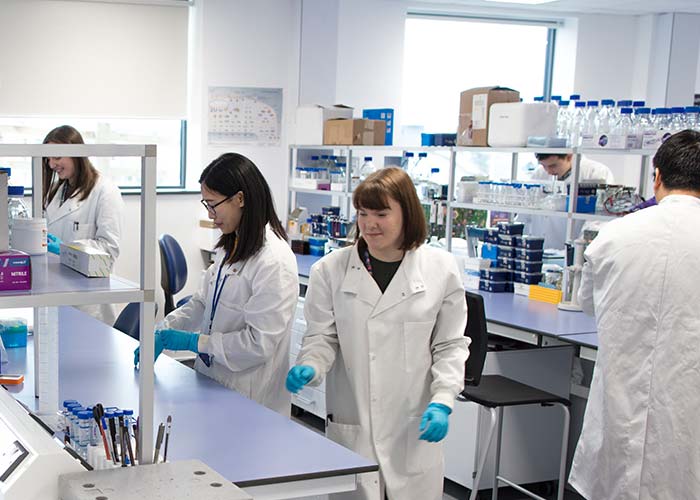 Importance of excellent Research
Medical research- in Plymouth and elsewhere – focusses on discovering how diseases develop and how  best to treat them. The University Medical School and its Specialist Hospital conduct research into a broad range conditions with particular strengths in Neurodegenerative Disease, Cancer, Infection & Immunity.
Many top doctors, nurses and other healthcare staff choose to work only in places where they can undertake research as well as treating patients.  In so doing they and their collaborating scientists introduce new therapies – much to the benefit of local patients.  Excellent research is the lifeblood of 'super' hospitals such as Derriford, which provide specialist services for large numbers of patients across Devon, Cornwall and beyond.   Excellent research will continue to attract the very best medical talent to this corner of the UK.   
See the research teams working in Plymouth here.
Medical research does cost money
The most promising approach to understanding and treating disease is through studying 'cell biology'.  Each of the billions of cells making up our bodies have a nucleus containing our genetic material. This controls how the cell functions.  When it goes wrong – either through malfunction or attack by viruses such as COVID – we have a problem which results in illness.    This cutting-edge research involves sophisticated machines, complex chemicals – and of course, highly skilled scientists.   Teams compete for large grants from national and international bodies to fund their projects. Here,  Plymouth is increasingly successful as it builds its reputation and infrastructure. But, there are always shortfalls or niches where smaller grants can make all the difference.  PhD postgraduate studentships are where young scientific talent is nurtured and often it is their work which results in breakthroughs.  The PMF is committed to raising funds in support of these vital posts.
Supporting Medical Students
Many of the Peninsula Medical School (PMS) graduates work in the South West and some are now consultants in local hospitals. The undergraduate medical course is 5-6 years in length which can be a big financial burden.
The PMS is doing much to widen access to medical training by providing help to students to enable them to complete the course when unexpected circumstances arise. View Student Support page.
There is a lot more we could do with your help.
Your support for the future
The University Peninsula Medical School is a fantastic resource, providing support for the health services of Devon and Cornwall in the present and, through its exceptional research programmes,  preparing to conquer new peaks of achievement in the future.
Its scientists really do deserve your support and this can be accomplished through the work of the Peninsula Medical Foundation – we will all benefit in the years to come.
Colonel Edward Bolitho OBE,
Lord Lieutenant of Cornwall
In conversation with…
Denis Wilkins, retired surgeon and recent past-chair of the Peninsula Medical Foundation (PMF), shares enlightening conversations with two of the University's inspiring researchers.
Supporting brain tumour research
A conversation with Professor Oliver Hanemann, neurologist
Beating antibiotic resistance
A conversation with Professor Mat Upton, microbiologist
(Incidentally, in 2018, Denis Wilkins cycled the length of the UK, from Land's End to John O'Groats in 11.5 days, to raise money for Brain Tumour Research undertaken at the University of Plymouth)
On October 30th  2021, Chris Kallis Solicitors organised an Italian charity night 'La Dolce Vita' at the New Continental Hotel in Plymouth.  It was generously supported by the local business community, medical staff, researchers and the family of Roger Harris, raising nearly £20,000 for brain tumour research in Plymouth. During the proceedings, Mr. Peter Whitfield, Consultant Neurosurgeon at Derriford spoke movingly about the cruelty of those afflicted by brain tumours whom he treats.
The Annual Vospers Charity Golf Day was held at Trevose Country Club in June 2021 raised nearly £8,000 of which £2,600 was generously given for Brain Tumour Research.
In November 2021, Professors Adrian Taylor and Rob Sneyd climbed the Carn Mor Dearg arrêté – 'The hard way up Ben Nevis' for research into Parkinson's Disease.  A testing feat for this intrepid duo which raised over £5,000 through generous sponsorship.
We are fundraising for  research  and education conducted in Plymouth through through the Peninsula Medical School and the University Hospital Trust; one of the largest specialist hospitals in the UK.  We keep our costs to a minimum and where specified, donations will be used for direct support of a project.   The charity is often called upon to provide funds – often at short notice – for shortfalls, projects which are under threat due to shortfall, start up research, student bursaries, etc.  Donations to PMF  'Unrestricted Funds' are vital to answer these calls as well as our lean infrastructure costs.  Regular modest contributions through standing orders or suchlike are extremely helpful and an ideal way to keep in touch. Thank you.