You can support PMF by
Donations
Fundraising
Join Amazon Smile
Leave a legacy
For more details see below
Making Donations
You can make a donation on Justgiving
https://www.justgiving.com/peninsulamedicalfoundation
For the Roger Harris Fund, the link is
https://www.justgiving.com/campaign/the-roger-harris-fund
Small regular donations (eg £20 per month) are also very useful, as if 100 people were to help in this way, it can lead to £24,000 per annum, increasing to £30,000 if gift aid is used.
An ideal method of making regular donations is by Standing Order.  The bank details to do this are:
 NatWest, Plymouth City Branch, 12-16 Old Town Street, Plymouth, PL1 1DG
Account number: 42538246   Sort code: 56-00-63
You can download our form here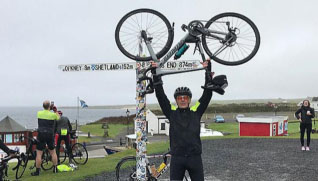 Fundraising
Denis Wilkins cycled 895 miles from Lands End to John o'Groats in 12 days raising £5,000.
A wonderful Italian Gala Nightwas  run by Chris Kallis, his colleagues and friends.  This raised £22,000 towards Brain Tumour research in Plymouth and was a great achievement, which demonstrated the tremendous generosity of individuals and our business community.
Give as you spend: Join Amazon Smile and make PMF your chosen charity.
If you use Amazon, join Amazon Smile (smile.amazon.co.uk) and Amazon will donate 0.5% (at no cost to you) to the Peninsula Medical Foundation.  It is important to sign up and nominate Peninsula Medical Foundation as your chosen charity, and make your purchase using smile.amaxon.co.uk when you make your purchases.
Remember PMF in your Will?
Consider making a donation in your will.  If you leave something to charity in your will, then it won't count towards the total taxable value of your estate. This is called leaving a 'charitable legacy'. You can also cut the Inheritance Tax rate on the rest of your estate from 40% to 36%, if you leave at least 10% of your 'net estate' to a charity.
How we can help you?
Contact us at the address below or send us an email and we will do our best to help you with your fundraising or donations.